Лучшие дни в году
(See English text below the Russian)
"Лучшие дни в году" is a Russian version of "Best Days of the Year"
Author: Oksana Lushchevska
ISBN: 978-91-984219-7-2
Pages: 24
Size: 21x21 cm
Publication year: 2020
Пин-пин всегда ждет свой день рождения. Для него это самый лучший день в году. Будут воздушные шарики, торт, гости  – все, как он любит. Но когда долгожданный день наступает, все летит кувырком.
Оксана Лущевская - украинская детская писательница, переводчица, публицист, исследователь детской и подростковой литературы, написавшая более 30 книг. Родилась в 1982 в г.. Тальном Черкасской области, Украина. С 2010 г. живет в городе Шарлотте, штате Северной Каролине, США.

Таня Горюшина - художница, иллюстратор, преподаватель. Родилась в 1978 году в Киеве. С 2009 года живет в Стокгольме, Швеция.
Pinpin always waits for his birthday with excitement. For him it's the best day of the year. He'll have balloons, a cake and guests. Just the way he likes it. When the day finally comes, everything gets turned upside down.
Sneak peek: https://www.smakprov.se/smakprov/?isbn=9789198421965&partner=smakprov

This picturebook is designed to be read aloud on holidays and weekdays. And also on the best days of the year: birthdays!

Authors: Oksana Lushchevska is a Ukrainian writer and translator. She is the author of 30 children's and young adult books. Her books were included into the White Raven Catalogue and shortlisted for BBC Children's Book Award.
                                                     
Tania Goryushina is an artist born in Kyiv, who now lives and works in Stockholm. She works on art projects, book illustrations, teaching art, and winning competitions to decorate public spaces.
Buy this book online: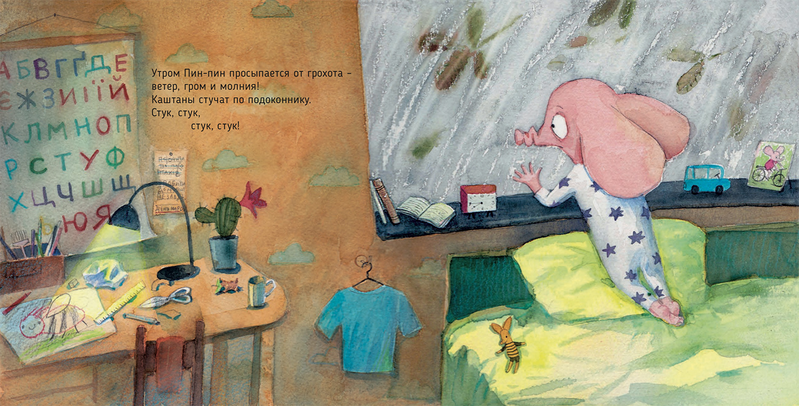 Find Tyanachu`s books in Swedish stores:
Krabat
Folkungagatan 79
08-640 32 48

Bokskåpet
Värmlandsgatan 20, 413 28 Göteborg
031-306 30 00
Bokbandet
Sankt Paulsgatan 24,
118 48 Stockholm
08-644 60 66
ECOsthom
Katarina Bangata 17,
116 39 Stockholm
Bokslukaren
Mariatorget 2,
118 48 Stockholm
08-644 21 06
Interbok Russian Books in Stockholm
Hantverkargatan 32,
112 21 Stockholm
NKbokhandel
Hamngatan 18-20,
111 47 Stockholm
Leksaksborgen ÖSTERMALMSTORG
(på Torget mitt emot gamla Folkan, numera Åhléns)
114 42 STOCKHOLM
Interbok KUNGSHOLMEN Hantverkargatan 37
(mellan Kungsholms Torg och Landstingshuset)
112 21 STOCKHOLM