Varfor ingen klappar igelkotten (SE)
This is a touching story for all ages illustrated in a fuzzy children's manner. Visually rich and with little but meaningful text, the book was written by a renowned Ukrainian author Andrey Kurkov. It tells a story of a sweet but lonely hedgehog who envied other animals because they were pet by humans. The hedgehog is sad until he meets a cute and friendly mouse.
This book opens up questions about friendship, lonelyness and selfacceptance. Adults can wave these subjects while reading and then discussing the story with the child. The book as good to work in a groups as well.
BUY THIS BOOK via ADLIBRIS, BOKUS
ISBN: 978-91-91986416-2-2
Original title: Почему ёжика никто не гладит
Author: Andrey Kurkov
Illustrator: Tania Goryushina
Age: 3+
Hard cover, 32 pages
Size: 28x21 cm.
The book was selected by Kulturrådet for the Children`s catalog 2018/19 (Russian-Swedish billingva)
During 2018-2022 we did a range of workshop for children based on this book.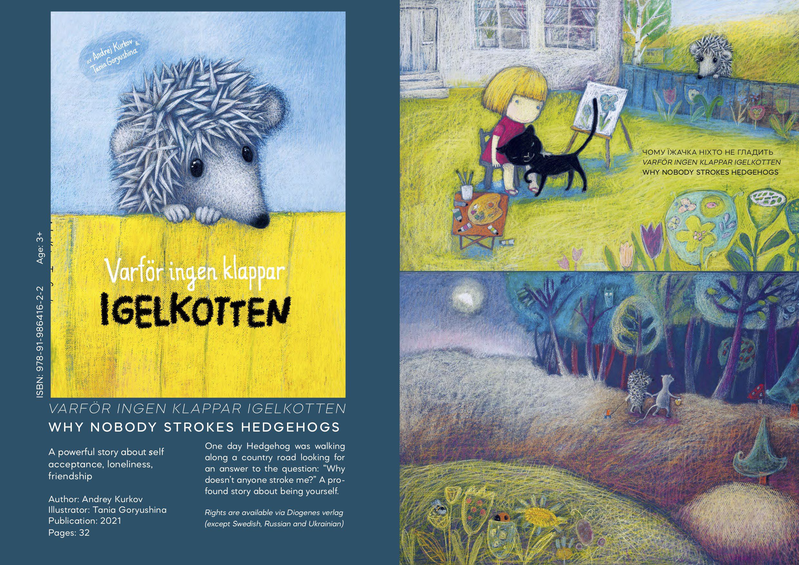 Recention from Editorial department of Sweden library:

Bilderbok. En ensam igelkott på promenad lägger märke till hur andra djur, en hund, en katt och en häst, blir ömt omklappade av olika människovarelser. Till slut infinner sig förstås frågan: varför är det ingen som klappar mig? Tårarna kommer. En liten grå mus kommer till undsättning och tröst - nu får igelkotten slutligen både en förklaring och en god vän. Andrej Kurkovs enkla text rymmer existentiella frågor och det är lätt att identifiera sig med den ensamme igelkotten som frågar sig vad det är för fel på honom. Nåväl, det slutar ju bra, och det kan kännas fint när det är allvarliga frågor med små barn som läsare. Illustrationerna är vackert uppmålade med svepande pastellkritor på ett underlag som ser ut som målarduk, vilket ger en fin struktur på bilduppslagen. Färgerna är mustiga och varma och växtlighet liksom landskap är tecknat med ett naivistiskt anslag. Ibland ger det känslan av barnteckningar. Resultatet blir en fin bild- och färgupplevelse, en suggestiv teknik som dominerar berättelsen. Den ukrainska tecknaren och konstnären Tania Goryushina har även illustrerat Den första resan (2017) – Annika Malm